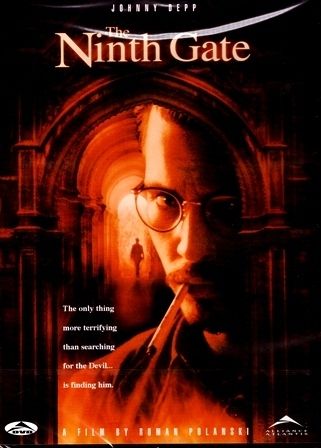 The Ninth Gate
(1999)
Director:
Roman Polanski
Stars:
Johnny Depp
,
Frank Langella
,
Lena Olin
Rating:
R
Run Time:
133 minutes

There's a reason I've waited fourteen years to see this movie. Roman Polanski. I'm not a fan. I am, however, a fan of Johnny Depp. Put him in a movie about books and I should be ecstatic.
'Should'
being the operative word.
First, collecting books about Satan is creepy and has the potential for some really terrifying fodder for the big screen and books (the film is based on a novel). Unfortunately, scary can't be found. It's as if the screenwriters and Polanski were poking fun of the supernatural and religion.
Depp's character, a rather unlikeable fellow, spends most of the movie putting the pieces of a puzzle together. It takes him a long, long time. I found my attention drifting. The things that were supposed to be suspenseful seemed contrived. The payoff is lacking.
Maybe it comes down to expectations. I expected to be suspended on the precipice of meeting the devil. Each clue should have made me fearful of being another step closer to that meeting. Instead, a farcical romp with up-tempo music left me disappointed.
It could be because of my faith, but I believe if you're going to make a movie about a book that could possibly lead you to a meeting with Lucifer, it should be tense. It should be frightening. It should make you uncomfortable.
The Ninth Gate
did none of those things.
On a side note, the author of the novel,
Arturo Pérez-Reverte
, had something to say about the film, "Polanski's film isn't bad, except maybe the last half hour. Evidently it is not my novel." Said novel being,
The Club Dumas
.
Reviewer's Rating:
2.5