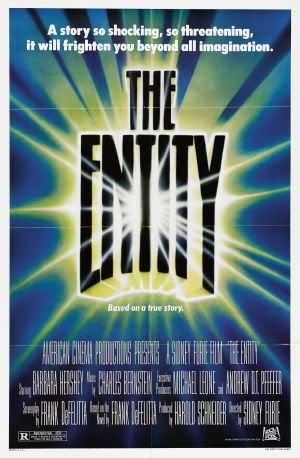 The Entity(1982)
Genre
:
Horror/Supernatural
|| Director
:
Sidney J. Furie
Writer
:
Frank De Felitta
|| Starring
:
Barbara Hershey
,
Ron Silver
Plot
:
A single mother of three,Carla Moran, is violently raped and beaten, in her own bed, by an invisible force. She seeks help from friends and parapsychologists to rid her this unseen visitor.
My Take
The Entity is based on the true accounts of Doris Bither from Culver, California. Mrs. Bither claimed she was accosted by evil spirits in her home. Most believed she was crazy but Dr. Barry Taff and Kerry Gaynor decided to investigate the claims on August 22, 1974.
The movie changes several things from the real account. For it's time I think The Entity was a very good supernatural movie. The actresses and actors did a great job and the special effects were good as well. The movie never slowed and kept a steady pace.
My only fault with the film is the ending. Freezing a ghost… really? I know it has to be spiced up a bit to get viewers but couldn't they think of anything else? I was a tad disappointed with it but overall it didn't overshadow the rest of the movie.
The Entity rests with a few other ghost movies as my top ghost movies and it is well deserved. If you haven't seen this yet do yourself a favor and add it to your netflix queue.
Also if you are interested in reading more about the story of Doris Blither then head over to
GhostTheory
and read their article on the case.