Picaro: A Tale of EXTREME Horror
Author:
Terry M. West
Available June 30th
Amazon
|
Facebook
|
Twitter
|
Website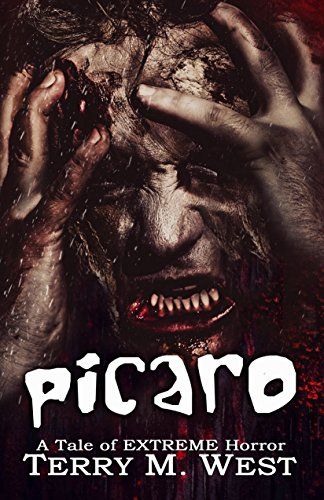 Binh Pham is a street hustler who suffers from narcolepsy. After his pimp is killed by a Mexican drug cartel, Binh realizes they are coming for him next. On the run, he thumbs his way down Interstate 45, a heavily wooded straight shot between Houston and Dallas. He meets Paul Marrane, an eccentric and charismatic road scholar. Paul travels with Binh, acting as protector and friend. But Paul's odd behavior soon turns dangerous. Convinced his road companion is a lethal psychopath, Binh discovers Paul Marrane is much worse than that. As the two men travel the dusty road, their odyssey becomes a harrowing nightmare from which there is no escape. PICARO is a bloody road trip to Hell from acclaimed author of horror, Terry M. West.
Sometimes I like to lay back and dig into something that's nasty, violent, and entertaining as hell. I picked
Picaro: A Tale Of Extreme Horror
because of the author's previous titles. Did this one disappoint? Keep reading below to find out.....
Author Terry M. West has a knack for interesting characters and this tale doesn't stray from that. It's easy to write a character like Binh Pham and have him be boring and predictable, but the author avoids that. Paul Marrane is the second of our main characters. He's written with such skill and has a mysterious aura that makes you want to know everything about him. He's also one cool dude! The Paul, (Binh meets early on ) is someone I could see myself being friends with. A combo of a submissive character(Binh) and an eccentric, strong lead(Paul) make for great reading.
I would go into more details about the story(because it's awesome), but if I reveal too much it would spoil it for others. The writing is great. It's gorier than some of Mr. West's previous works, but the gore isn't added for shock value.
I hope that the author will expand on this universe. It's an entertaining and brutal read that keeps tearing at your flesh long after you're done.