Frightful Tales 3: Where does Crazy Start?
Author:
Wesley Thomas
Amazon | Facebook | Goodreads | Twitter | Website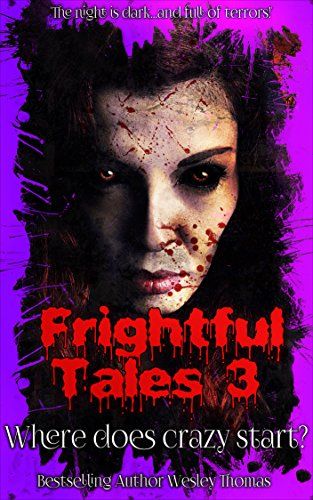 Terry has suffered from insomnia for many years; he has tried everything. Tony, his best friend, is determined to find a cure. This leads them to a mysterious clairvoyant who is new to the area. She has a rather extreme idea of how to cure Terry's insomnia. Which begs the question: is it worth the risk?
The Frightful Tales series is a collection of horror novellas, each based on real Urban Legends. From the eerie, chilling and horrifying! Each book tells of a myth originating from the United Kingdom.
The Frightful Tales books(#1 Rose's Thorn, #2 He's Watching Me, and #3 Where Does Crazy Start?) by author Wesley Thomas are each based on a myths from The United Kingdom.
In this book we are introduced to Terry, a poor soul that hasn't had a normal sleep in decades due to insomnia that comes in the form of brutal and bloody nightmares. He has tried every medication and so called cure but nothing has eased it. His best friend Tony believes he has found someone that can help; A clairvoyant new to the town. Is Terry ready to accept the risks that comes with this possible cure?
Author Thomas returns again with another dark, brooding, and mysterious work of fiction that will keep you on your toes guessing. The characters are believable and I quickly found myself relating to Terry. Who hasn't suffered insomnia at some point in there life and who hasn't ever had a nightmare so ghoulish that you wake up gasping for the breath of reality.
Another quality of the author that is present here is his descriptive writing and the ability to set the scene. I could vividly imagine the scenes taking place like a movie in my head.
While the author pushes for a complex story trying to throw the reader for loop and leave them guessing. I found the ending to be a bit predictable and cliche. It was dark and brutal, but for all the momentum it had; the ending fell flat.
A good read that I would recommend everyone to check out. Filled with twisted imagery, great characters and an intriguing plot that is saddled with an average ending.