Warning: this is no ordinary "vampire" film. So there's not much blood-and-gore, and no violence at all (unless you think neck biting is violence). In fact, you won't even know whether Eve (
Tilda Swinton
) and Adam (
Tom Hiddleston
) are real vamps or not if they don't show their fangs. But the film does try to depict the ordinary lives of the immortal creatures – if they truly exist in reality, and instead of the wonderful illusion that we humans often dream of, the unending life can be lengthy, dull and simply uninteresting to the vampires.
The film opens with a vortex-like scene in which everything slowly spins and descends, just like what time appears in the vampires' eyes. There we see Adam, a super-talented musician who dwelled in an old house in the deserted Detroit. Lamenting the naivety of humans and the irreversible tide of the modern society, Adam is often depressed and suicidal. On the other hand, his wife Eve was a bibliophile who lived (quite happily) in Tangier. One day, Eve decided to visit Adam, and so the couple reunited and enjoyed some quality time together. But their secret lair was soon discovered by Ava (
Mia Wasikowska
), the crazy little sister of Eve. Refused to keep a low profile and felt dissatisfied with the preserved blood in Eve's fridge, Ava targeted Ian, a human friend of Adam. Thus started the disaster and the once-peaceful life of the vampire lovers was disrupted…
Across the entire film, the acting was low profile but mesmerizing. Tilda Swinton successfully portrayed an otherworldly graceful immortal that makes you think of
Galadriel
in Lord of the Rings, while Adam was a cool and melancholic
Bloodline Keeper
being stranded into the modern days. And the entire film is full of things so
Jim Jarmusch
: vintage instruments, swirling music, and the often unbearable strangeness that exists in the hearts of the-end-of-era souls. So if you want to experience different emotions than what you had in Twilight or commercial vampire films, you should give it a try.
You have been warned though – the blood ain't traditional tasting.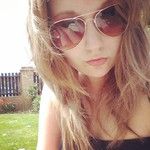 A strange girl who wants to live in the Middle Ages. She loves vampires, Game of Thrones, and the black color.