Warning: spoilers ahead!
"Amy Dunne is a real criminal," This chanted repeatedly in my head as I stepped out of the theater of
Gone Girl
. I haven't read the bestseller by
Gillian Flynn
before watching the movie, but I'm so glad that I didn't – the murderous and blood-spilling (yes, blood-spilling) maze won't look so appealing otherwise.
It was a typical wedding anniversary day for Amy (Rosamund Pike) and Nick Dunne (Ben Affleck). But unlike the traits of normal couples, Amy presented her "gift" to Nick by disappearing, while the only trace she left was a crime scene at their home in Missouri. Nick called the police and filed a missing case, but his reluctant and hesitated display of grief in front of the public caught attention. It soon turned out that their marriage was actually falling apart, and Nick was having an affair – the number one deadly sin in a marriage – with a young student called Andie (Emily Ratajkowski). Amy, who had discovered her husband's infidelity, decided to take a huge revenge by plotting everything against Nick. So Nick was trapped in a difficult PR crisis, while Amy was gone visiting her rich ex-boyfriend. But as soon as she found out that her new home was just another cage, Amy plotted another crime scene by cutting her ex's throat in bed (yes, in bed) and ran back to Nick by pretending as the victim…
In fact, it's not difficult to understand why Nick would fall for Andie. She was hot, sexy, and came along with an innocent look – just like those girls you would see on
Bazoocam
. In contrary, Amy was cold, aloof, and paranoid, with her only interest as writing in her diary and composing her book series, the
"Amazing Amy"
. But unfortunately in the world of marriage, things are never strictly 1+1, and infidelity can hardly be forgiven. And if your better half is a smart person with characteristics of a psychopath, you'd better beware before you take the faithless path – he or she would be ready to destroy your life completely.
So if you're looking for a mind-blowing psychological thriller that twists at the most unexpected moments, look no further than Gone Girl. While it's not an action-packed blockbuster that makes you sit on the edge of your seat for the entire 149 minutes, you will surely be hooked by the understated but cunning glances of the "Amazing Amy".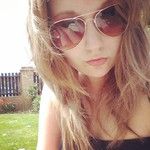 A strange girl who wants to live in the Middle Ages. She loves vampires, Game of Thrones, and the black color.