This month the Without Your Head crew will focus on
Hellraiser
. Offering up interviews from the three original
Cenobites
and other things all related to the awesome movie Hellraiser.

This week the crew interviews Cliff Wallace. Noted for his work on the effects in Hellraiser and Hellbound including Frank's rebirth, Channard's death, Hellbound's Butterball and Chatterer redesign, a cut scene showing Chatterer's origins and much more.
He has also worked on many films such as World War Z, Hellboy 2, Waxwork the 28 Days Later franchise, Dr.
Who series and many more.
The interview and much more live Thursday May 15 @9PM EST 6PM PST. Call in live via: 1 (508) 413-3144 or Skype-WithoutYourHead
If you can't call in join in the chat as the show goes on over at the
WYH Facebook Group
or you can download the podcast WITHIN 48 HOURS OF THE LIVE SHOW.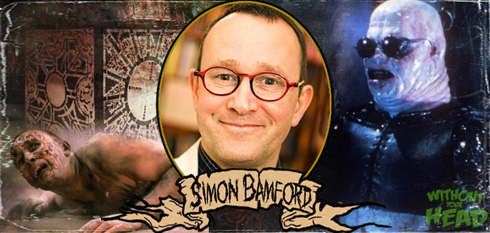 Be sure to check out last weeks hilarious
2-hour interview with Simon Bamford
(actor who played cenobite Butterball)