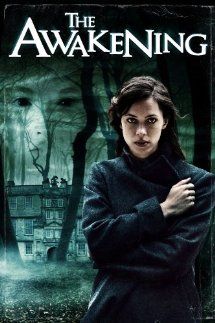 The Awakening
Director:
Nick Murphy
Starring:
Rebecca Hall
,
Dominic West
,
Imelda Staunton
,
Isaac Hempstead Wright
Rating:
R
Run Time:
107 Minutes
Genre:
Horror | Thriller

Can a horror story be beautiful? If
The Awakening
is any indication the answer is yes.
Florence (Rebecca Hall) is a 1920's version of
TAPS
. She investigates the paranormal and exposes hoaxes. She doesn't believe in ghosts, the afterlife or God. When she's asked to investigate a boarding school with a ghost that has scared a student to death, she reluctantly agrees. What she uncovers could very well kill her.
It's a ghost story and has the prerequisite tension and scary moments, those glimpses of things the characters don't see. The viewer is never certain if the spirit is malevolent or not; it could go either way.
There's more at work here than just ghosts. Or rather, ghosts come in many forms. World War I has a big influence on the characters. Heroes and cowards, survivor's guilt and regret all come into play as the story unfolds. The subtleties enhance the obvious.
Drab colors are prevalent and add to the suspense. The camera doesn't miss a thing. Clues are presented a little at a time, culminating in revelations reminiscent of
The Sixth Sense
in that Florence pieces things together by visualizing those hints. But the climax is beautiful. I credit that to the writing.
The cast gives stellar performances. Imelda Staunton never ceases to amaze me. Her talent is phenomenal. Isaac Hempstead Wright is a wonder. I'm guessing this performance didn't hurt him when
Nina Gold
and
Robert Sterne
were casting
Game of Thrones
.
If you're looking for blood and gore, you won't find it in
The Awakening
. If you like a good ghost story with layers of suspense and revelations, you'll love this movie. I already want to watch it again to see if I missed anything the first time.
Reviewer's Rating:
4