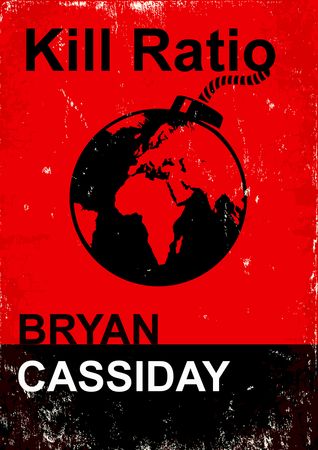 Title:
Kill Ratio
Author:
Bryan Cassidy
(
Homepage
|
Facebook
|
Twitter
|Amazon:
US
/
UK
|
GoodReads
)
Format:
E-book
Length:
360 pages
Price:
$5.99
The world is coming to an end, thanks to a plague turning people into zombies. The American government is to blame
and one man aims to hold them accountable. Chad Halverson , a CIA Black Ops agent, knows the truth and now his employer has sent a drone to kill him. Can Chad and his gang survive the onslaught of

dead and make it to Washington, DC?
The fourth installment of the Chad Halverson series is suspenseful, engaging, and action packed. At the core it's a zombie tale and "Kill Ration" doesn't disappoint in this area.
While reading, I kept visualizing it as a big action/horror flick with blood, guts, and explosions. A few characters I felt were a bit cliché(most noticeably The President), but it went with the vibe I was getting of an over the top action flick.
I have not read any of the other books in the series, and I never felt lost. The author knows how to weave suspense and zombies with

skill.
Be sure to read the other books in the series and his other works
here
.