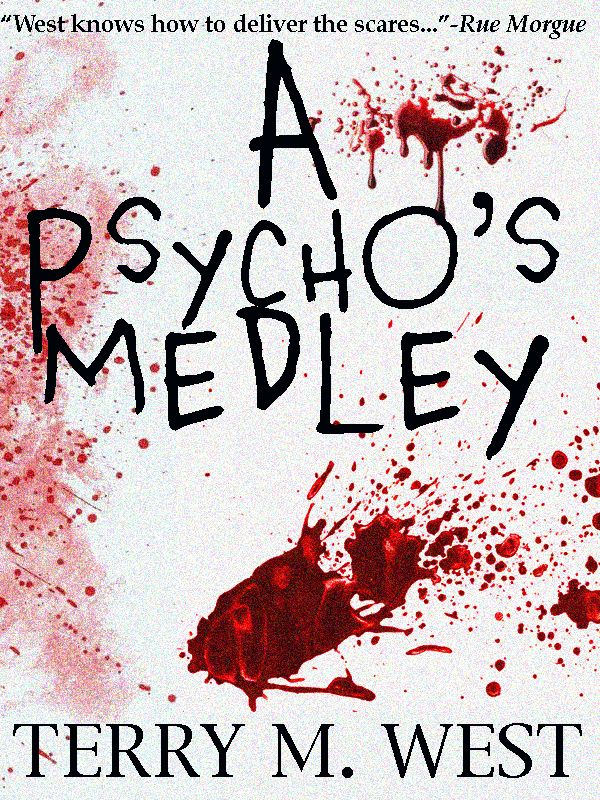 Title:
A Psycho's Medley
Author:
Terry M. West
(
Home
|
Facebook
|Amazon:
US
/
UK
|
Goodreads
)
Format:
E-book
Publisher:
Pleasant Storm Entertainment, Inc
Length:
106 pages
Price:
$1.99
"A Psycho's Medley"
is a collection of six short stories by author Terry M. West. Each story is based around psychopaths and are rooted in reality. If you are looking for supernatural entities or creatures , look somewhere else. The author let's the blood and gore flow within the six stories, so be warned they contain extreme violence, gore, and sexual themes.
In the first story "A Psycho's Medley", I found the author portrayed the character of John Newport very well and using the diary as a way to tell the story from his POV was spot on. Some of the poetry included was hit or miss for me, but it didn't distract from the overall plot.
"The Night Out"
finds Kevin out on the hunt looking to satisfy his carnal pleasures. Finding himself in The Silver Pistol Club, he struggles with memories of his past and controlling his temptations, When he meets his old girlfriend, a waitress, he is determined to have her. Overall it was a good story, wish the author could have implemented Kevin's memories a bit better as it tends to get a bit confusing as is.
"Morsel"
tells the story of an angry business man spending another night in a hotel. Tire of his nagging wife and boring sex, all he wants is to be in control. Calling up a prostitute, he hopes she will oblige but when he's in control things tend to go wrong. Nothing to complain about with this one, it hit all the right notes for me.
In
"Waiting For Thunder"
an insecure woman afraid of commitment lives the live of love them and leave them.She gets what she wants and leaves the guys with a bang. I think the author could have done more with this story. Extending it a bit more, following the woman as she leaves her current lay and her journey into the darkness. It was decent but could have been way better.
"Traiteur"
follows a boy and his father deep into the swamp.
Dreg
is being taught the ways of his people and how they hunt. Scared, but not wanting to let his father down, dreg continues on and bags his first kill; making his father proud. Along with "A Psycho's Medley", "Traiteur" is another one of my favorites in the collection.
The final story in the collection,
"Hair and Blood Machine(The Extended Edition)"
, centers on a small town guy who lost his parents in a wreck. After their demise his sanity breaks and now he's trying to recover, but when he discovers a woman at the carnival's sideshow, he loses all control. The ending fizzled on this story when I expected something better, but overall it fit with the theme of the collection.
Overall
"A Psycho's Medley"
is a collection worth reading if you like bloody, tales full of violence and killing.
ABOUT THE AUTHOR

Terry M. West is a well known author, filmmaker and actor. He has written several books in the young adult field (most notably the graphic novel series, Confessions of a Teenage Vampire) and he has also authored several horror stories as well as the novel, Dreg. His short horror work has appeared in FrightNet,

Scream Factory, Agony In Black, Lacunae, Jackhammer, House of Pain, Dark Muse and Moonletters.