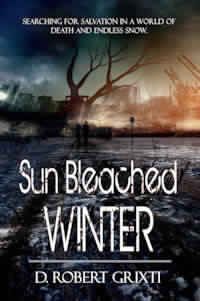 Title
: Sun Bleached Winter
Author
: D. Robert Grixti
Homepage
|
Twitter
|
Facebook
|
Amazon:
(
US
/
UK
)|
Goodreads
Format
: E-book
Length
: 116 pages
Price
: $4.50

Nuclear war has turned the world into a wasteland and the collapse of human civilization. Lionel and his sister Claire are in search for anything resembling normalcy, but marauders and cannibals seek to murder and consume them. Hope comes in the form of 'New City', an outpost striving to stay alive; salvation for lucky travelers able to brave the new world.
I love apocalyptic stories, but most rehash the same material over and over. Mr. Grixti's novel is a breath of fresh air in the genre suffocating with the same boring plots and settings.
"Sun Bleached Winter"
is a dark and somber tale of the human condition. How much can one person endure before they give up? Lionel as the protagonist is put into circumstances that I wouldn't be able to handle and at times he struggles, but in the end he continues on in hopes of finding salvation for Claire and himself.
Other titles By Mr. Grixti: