I recently had the privilege to converse with Bryan W. Alaspa, author of several fiction and non-fiction books. During this brief interview, I was able to probe him (not that kind of probing you sick jerks lol) for info on his upcoming projects and we discussed his book "Vicious". I hope you enjoy the interview and decide to check out this author's awesome work.
Interview with Author Bryan W. Alaspa
I would like to talk about "Vicious". What was your inspiration when writing it?
Well, there were several things that came together at once for Vicious. First, as a writer of horror, I had always wanted to do a "man against nature" kind of story. One of the first novels that ever inspired me was Jaws and I wanted something in that vein. Then, there is the deep-seated desire within every horror writer to do their take on the "cabin in the woods" story. I felt that this would be a good point and a good place for that. But, for quite some time, I could not find a proper antagonist for my cabin-dwellers.

I kicked it around in my head for years, wondering if it should be bears or Bigfoot or something. I even toyed with the idea of putting the group into the Arctic and then making them cornered and surrounded by polar bears, but nothing just felt right. Then, one day, I was at a library doing some work and, as I was leaving, I saw a true crime book about an incident in San Francisco. A woman had been mauled to death by two dogs while she had been standing in the hallway of her apartment building. It turned out that the dogs had once been owned by two white supremacists who had trained them to fight. They had gone to prison and given these dogs to their lawyers and they had gotten loose and attacked this woman and killed her.

The book had images of the dogs, two Presa Canario or Canary Island dogs, and I was impressed. I thought – if two dogs of that breed had been trained to fight and got loose, they would be something to go up against. I knew then what my protagonists would be facing off against.
I had an experience with two very angry Rottweilers when I was younger. I wasn't harmed but they chased me to my front door and as a young child that was a terrifying experience.
Your book "Vicious" and Stephen King's "Cujo" are two titles still capable of bringing that childhood terror alive.

You included two endings in "Vicious", which one do you like and consider the true ending?
It's tough for me to mention the endings without giving them away, but the ending that is first in the book was the original ending. So, I guess I tend to like that one. However, I am also a dog lover. I have always loved dogs and believe that there are no bad breeds, but there are bad people who can turn any dog into a vicious dog.
So, I guess I wrote that second ending to ease my own conscience. I didn't want to have a Peter Benchley moment where he spent the rest of his career trying to make people unafraid of sharks since he had made so many terrified of them that people felt no compunction about killing them like crazy. I didn't, and don't, want anyone to be afraid of a breed of dog. Dogs are great, better than most people I know, but bad people do bad things to them that turns them mean.
I prefer the original ending as well, not because I hate dogs but because that ending felt natural and fit with the rest of the story.

You have written horror, thrillers, and nonfiction work. Which genre do you prefer to write?
Horror is, and always will be, my first love. I discovered it early and probably always had an unhealthy interest in the macabre from a young age. If there was violence or something scary in a TV show or movie, I just wanted to see it. I started reading Stephen King in the 6th grade! And my brain just tends to look for the scary in things.
That being said, I like writing thrillers and mysteries because, to me, there is very little as scare as our fellow human beings and the cruelty we inflict upon each other. So, even in those novels I tend to include horrific elements. And my non-fiction is all true crime and ghost stories, so even in that regard I tend to go for the scarier stuff.
What are some of your favorite Stephen King novels, or other horror books in general?
Well, like most people I think The Stand is one of my all-time favorites – both versions. His Dark Tower stories are huge favorites of mine. The Shining is really the gold standard for horror and ghost stories. I am also a huge fan of IT.

As far as other horror, these days Blake Crouch has got to be at the very top of my list. I loved, loved, loved his novels RUN and PINES.

I have also been a big Robert R. McCammon fan.

I have some authors who are with me over at SalGad Publshing like Ian Rob Wright, who is excellent. He manages to include a heaping helping of humor in his work.


And I recently read Progeny, a novel by a writer named Patrick Greene and it just blew me away. I really cannot wait to see what he does next.
If you had to pick one horror movie as your favorite. What would it be?
Gosh, that is a hard one. I guess Jaws is probably my all-time favorite movie, and that falls under horror. Kubrick's version of The Shining is a classic and Alien is probably in my top 5 favorite films.

I am also a huge fan of psychological horror. I am not so much a fan of excessive gore or jump-out-at-you kind of horror. So, movies like Dead Ringers with Jeremy Irons have a deeper, longer-lasting effect on me than a movie filled with buckets of blood and guts and computer-generated monsters. There's this little movie called May out there that's in that category that's quite good.


Guess I can't pick just one! Like eating potato chips. Bloody, gory, scary, creepy potato chips.
May is one of my favorite movies absolutely love it.

Do you have an upcoming projects, you would like to mention?
Yay! I love finding fellow May fans. I feel like the real fans of horror, the connoisseurs know that film.

I have so many projects! Ugh, if I cannot start writing full time one of these days, I will have to live until 150 to complete them all. I just released a new edition of my horror novel RIG. I have audiobook versions of RIG, The Dead Phone and my detective novel One Against Many in the works.

I have my first Young Adult novel already done and in rewrites and edits (it's a ghost story) – that's called Sapphire. I have started a new mystery/thriller that I hope to have done by the end of the year. I also plan to write the next chapter in my series called Sin-Eater. I also have this idea for a YA series and I may start the first novel in that one this year. I also have plans for a possible RIG sequel and had an idea for a new supernatural horror story pop into my head a few weeks back that I think has legs.


So… yeah, always busy here!
Wow! You are indeed a busy man. Sounds like 2013 will be an exciting year for your fans .

Before I let you go, what's one piece of advice you would give writers just starting out?
Don't give up. Never give up. Don't think that the only way to be a successful writer is to be a rich writer. You can publish via so many venues that you can find an audience, even if it's small. Just write what you feel, don't worry about what's popular. The world has enough zombie and vampire novels, OK? Never let your imagination lapse, so even if you just write for yourself, never give up!


And don't get stuck thinking about writing and publishing via old ways. Self-publishing via electronic means is not a stigma against you. It's freedom in a lot of ways. Just make sure your product is as good as you can make it and people will find you.
Thank you again for taking time for this interview. Can't wait to see your new projects.
Thanks for having me. I love your site and I hope to be back on here again sometime soon!
About Bryan W. Alaspa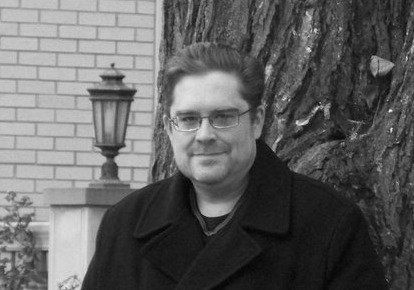 Bryan Alaspa, is a Chicago native who has dreamed of being an author since third grade when he first sat down at his mother's typewriter and pounded out his first short story. It wasn't very good, but it did give him the habit for writing that he has not been able to shake since.
He is the author of several works, both fiction and non-fiction. His non-fiction works include the history and true crime genres, whilst his fiction is available in the horror, suspense, thrillers, and mystery categories. These include, The Ballad of the Blue Denim Gang, The Vanished Child, Dust, RIG: A Novel of Terror, After the Snowfall, MYTHOS: A Thriller, and the Sin-Eater series.
Bryan currently lives in Naperville, Illinois, with his bride-to-be, Melanie, and their two dogs, Gracie and Pippa.
Connect with Bryan W. Alaspa