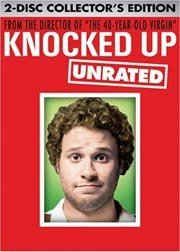 Title:
Knocked Up
Directed and Written By:
Judd Apatow
Starring:
Seth Rogen
,
Katherine Heigl
,
Paul Rudd
,
Leslie Mann
,
Jonah Hill
Rating:
* * * * *
Summary:
A one night stand leads to an unplanned pregnancy that changes Ben Stone and Alison Scott priorities in life.
Seth Rogen is one hilarious fucker, add Jonah Hill and Katherine Heigl to the mix and you have the makings of an instant comedy classic.I've watched the dvd countless times since buying it and I laugh constantly through out. If you love comedies and liked The 40 Year Old Virgin ,then do yourself a favor and go out of your way to watch this movie. It's that damn good!
Related articles: