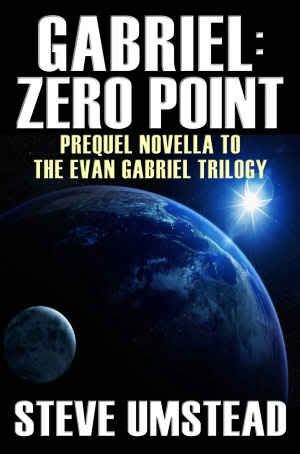 Gabriel: Zero Point
Title:
Gabriel: Zero Point
Author:
Steve Umstead
(
Homepage
|
Facebook
|
Twitter
|
Amazon:
US
/
UK
|
GoodReads
)
Format:
E-book
Length:
91 pages
Price:
$0.00
Rating:

* * * *
Summary:
Gabriel:Zero Point is a prequel novella to the Evan Gabriel Triology which can be read before or after reading the other three titles. A recruit in the elite Naval Special Forces, Evan Gabriel strives to be the head of his class and is soon chosen for a top-secret military experiment that will force him to make critical choices and a dangerous situation while coming to grips with who or what he has become.
As I have mentioned before,I'm never been a huge fan of Science Fiction and military type stories but Steve Umstead and
Michael K. Rose
in particular are changing my views. I hate to compare this to movies but
"Zero Point"
is a mixture of
"Universal Solider"
and
"The Bourne Identity
"
.
Umstead's writing is clear,engaging and the characters are well defined. Action within the novella is handled and described well finding a perfect balance. As with Rose's
"Sullivan's War"
series the technology used in
"Zero Point"
is realistic and described well enough that there is no doubt how they operate. Overall
"Gabriel: Zero Point"
was a great read that has peaked my interest in the
"Evan Gabriel Trilogy"
.