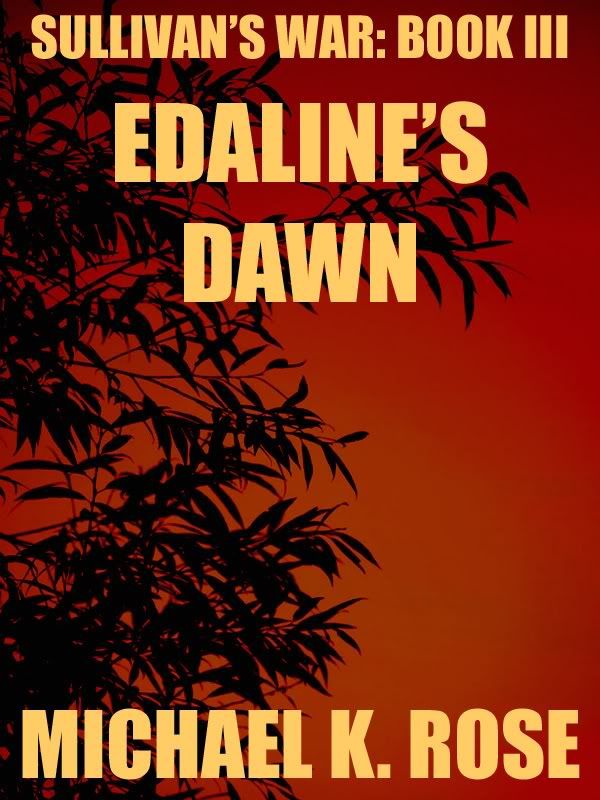 Sullivan's War: Book III- Edaline's Dawn by Michael K. Rose
Title: Sullivan's War: Book III- Edaline's Dawn
Author:
Michael K. Rose
(
Homepage
|
Facebook
|
Twitter
|
Amazon:
US
/
UK
|
GoodReads
)
Format:
E-book
Length:
approximately 25,000 words/100 pages
Price:
$2.99
Rating:
* * * * *
Summary:
Rick Sullivan is back in this epic finale. Sullivan's adventures started in "All Good Men Serve the Devil" and now in Edaline's Dawn will he be able to overthrow the oppressive government. That and other questions such as the fate of Frank Allen are answered in this final installment.
Michael K. Rose returns with the third installment of
"The Sullivan's War"
series. With
"Edaline's Dawn"
Rose returns in style bringing back his gripping characters, reality based sci-fi tech, and more action. A perfect mix of it all with a compelling story and characters is further proof that Michael K. Rose and other indie author's are bringing the
Science Fiction
genre back to form.