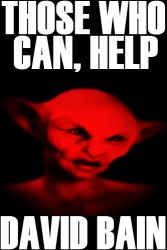 Those Who Can, Help by David Bain
Title:
Under an Invisible Shadow
Author:
David Bain
(
Homepage
|
Facebook
|
Twitter
|
Amazon:
US
/
UK
|
GoodReads
)
Format:
E-book
Length:
N/A
Price:
$0.99
Rating:
* * * * *
Summary:
Shelly works third shift in a home for developmentally disabled people. After accidentally falling asleep one night, she finds her chores are nonetheless done come morning. She begins to suspect supernatural help. But what can Shelly do when her otherworldly helpers themselves are in danger?
"Those Who Can, Help" is a tale of karma doing what it does best and people who see fit to help others without question. David Bain spins a classic story etched with grains of fantasy and the supernatural.
Shelly(A mother of a twenty-three year old daughter with Down Syndrome) works the third shift at a home for developmentally disabled people,like her daughter. Drained from the day-to-day care of her daughter(bed ridden with the flu) and residents at the home. She falls to sleep leaving the day's messes uncleaned, only to awaken the next morning to find everything tidied up for her. Did she take care of it while sleeping?; or is someone or something responsible?
In life everyone needs a helping hand and Mr. Bain blends Fantasy and reality with skillful ease. You get back what effort you put into life and "Those Who Can, Help" brings home the message.
This is a great read that I finished in one seating. Five Stars all the way!
If you like this from Mr. Bain check out his other literary works, such as :