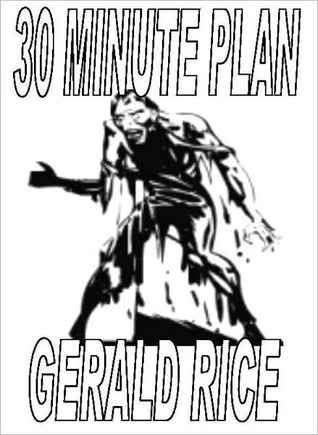 Title:
30 Minute Plan
Author:
Gerald Rice
(
Homepage
|
Facebook
|
Twitter
|
Amazon:
US
/
UK
|
GoodReads
)
Format:
E-book
Length:
39 pages
Price:
$0.00
Rating:
* * * *
Summary:
It's the dusk of the zombie apocalypse. What's left of mankind is huddled in the husks of the cities of the world. There are fewer of the walking dead, but they are just as dangerous as ever. After scientists come up with the brilliant idea of scent-marking them something goes wrong and a soldier is taken. When a fellow 'dog' decides to take matters into his own hands to rescue his comrade he finds the living dead have changed for the worse. Includes an excerpt of the novella Fleshbags and the upcoming The Zombie Show.
Gerald Rice's '30 Minute Plan' offers readers a different take on the zombie apocalypse.
Scientists decide it will be beneficial to scent mark the zombies and put the job off onto the remaining soldiers or "dogs". I'm still not clear as to why they would want to do this. Maybe to cover up the awful stench of death and decomposition I'm not sure. Regardless it's an entertaining read.
What I really liked about this short story are the different types of zombies Mr. Rice introduced.
If you are a fan of the zombie genre and want to read something a little different then check this one out.