Tune in to Without Your Head Horror Radio - Live Thursdays
Recap of Laurence R. Harvey on
Without Your Head Horror Radio, 01/08/2015
by Vic Schiavone
Hosts Nasty Neal, Annabelle Lecter, and Terrible Troy welcomed longtime friend of the program Laurence R. Harvey, best known for his role as Martin Lomax in the movie "
The Human Centipede
2". During the course of the 1 hour and 45-minute interview Laurence discussed several of his current projects including the long-awaited "
The Human Centipede 3
", due for release sometime in the first half of 2015.
Highlights included the following:
WYH: What can you tell us about your character in Human Centipede 3 or when it is coming out?
LRH:

"Well, the character is called Dwight Butler…What can I say? I can't say very much. I have no idea when it's going to be released; I haven't been told. I haven't been given a date for the cast and crew screening.

All I saw was what Tom (Six) put on Twitter yesterday, which was that the MoviePilot website had announced that it was going to be released on June 20th, and Tom pooh-poohed that and said it would be out before then. That's all I know; it's going to be out before June."
WYH: Is there any worry at all that "Human Centipede 3" won't live up to expectations?
LRH:

"No…As I have always said, it's not going to be like the first film or the second film; it's going to have its own distinct look, style, and feel. It's more of a satire, it's more American, rich colors, and yeah, it's not going to try and outdo the gore of Part 2, but the gory scenes in Part 3 are ones that really make you kind of cross your legs and OOOH…

I just think that some people expect it to be more gory and more horrible than Part 2, and I'm saying there's a little less gore and it's more shocking in other ways. Part 2, the last half hour it's just one thing after another, BAM BAM BAM BAM BAM. Here, in this film, the idea kind of evolves over time, it becomes this huge thing and then there are moments…the violence isn't all saved till the very end.

I doubt it will be as much of an ordeal to go through the violence, but the moments of violence are there to make you go OOOH, and they're kind of spread out throughout the narrative. I think I may have overstepped what I can say there, but that's just my opinion. I haven't seen it when it's edited, or what it looks like with the color treatment or how it is with the sound, so maybe I'm talking complete rubbish."
WYH: When Entertainment Magazine covered "Human Centipede 3", were you surprised since it's a mainstream magazine?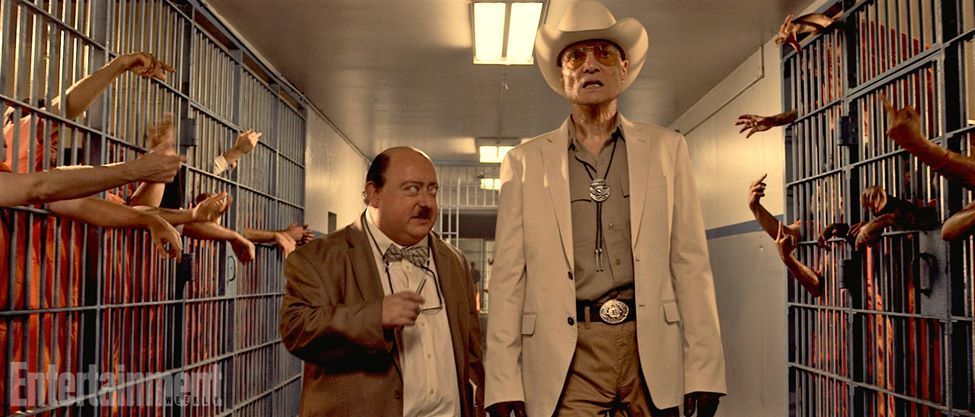 LRH:

"They covered Human Centipede 2. They had the exclusive rights to bring out the first interviews when the film came out, so I wouldn't be surprised if they've got a similar deal for Part 3…

Entertainment Weekly

is a big fan of Tom's and Tom's work, and

Weekly

seems a whole lot more geared towards "geek culture" - interested in horror and science fiction and superheroes, increasingly, because that's where most mainstream entertainment is heading.

Even though Human Centipede films aren't mainstream entertainment, the first one kind of broke into mainstream consciousness anyway, so they're part of the mainstream even though they're not mainstream films."
WYH: Without detail, do you feel that because "Human Centipede 3" is being taken in a new direction in some ways do you think that it could break into a broader audience, or do you think there will be more hesitation to be associated with the films in any way?
LRH:

"When the first film came out, some people loved it and some people hated it. When the second film came out, some of the people that hated the first film loved the second one. Some of the people that loved the first one also loved the second one.

Some people loved the first one but not the second one. The third one is going to have its own audience in the same way. Some people will love all three, some people won't love one of the three, and like with the two previous ones, as Part 2 brought in new people who went back to Part 1, reassessed it, and then saw Part 2 because they'd heard Part 2 was so good, I think that will happen with Part 3 as well.

People will see Part 3 and go, 'Oh, maybe I should go back and watch the other two.' The three films are so different, but share this thematic link. Whenever somebody comes to the films new, whatever film is their entry point, then they always go back and reassess or relook at the previous films."
Other topics discussed included:
How did different countries react to "Human Centipede 2"?
What was it like for him to work with Dieter Laser?
What other projects does he have on the horizon?
Does he enjoy doing short films such as "Call Girl"?
How would he compare fans at a horror convention in the United States to fans in other countries?
Be sure to check out the
WYH Facebook Group
and join in with Neal, Annabelle, and the rest of the headless ones.