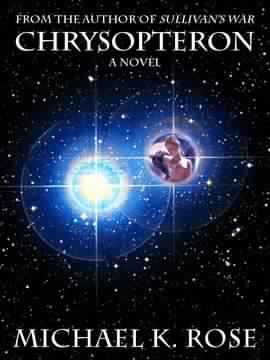 Title:
Chrysopteron
Author:
Michael K. Rose
(
Homepage
|
Facebook
|
Twitter
|
Amazon:
US
/
UK
|
GoodReads
)
Format:
E-Book
Price:
$4.99

Captain Hayden and his crew set out on the biggest mission of their lives. The Chrysopteron, one of earth's generation ships that left earth centuries ago, has lost contact and it's up to John Hayden and crew to discover the fate of the ship's inhabitants.
Mr. Rose, once again, has created a thought provoking story with wonderful characters and a plot that keeps the reader guessing and on the edge of their seats. I'm a huge fan of the author's previous works and knew "
Chrysopteron
" would be excellent but it surpassed my expectations.
Rose's current novel delves into several topics such as faith, environmental problems, colonization, and the self-determination that keeps us as a species moving forward.
This a must read for any science fiction or speculative fiction fan.