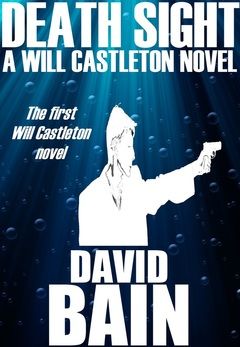 Title:
Death Sight
Author:
David Bain
(
Homepage
|
Facebook
|
Twitter
|
Amazon:
US
/
UK
|
GoodReads
)
Format:
E-Book
Publisher:
a/a Productions
Length:
484 pages
Price:
$2.99

Mr. Bain's 'Slightly Psychic' detective Will Castleton is back in Death Sight. The first Will Castleton novel serves as an origin tale that shed's light on the enigmatic lead character from
'Island Ghosts: A Will Castleton Adventure'
and
'The Castleton Files'
.
Mr. Bain brings the goods once again in this dark gritty tale of a damaged man coming to terms with the changes in his life and within himself. Fans of the previous Castleton stories will feel right at home here and like me quickly sink into Castleton's world of loss,murder, and the supernatural.
It's great to see the author get a chance to expand the title character and give the reader insight into his past. Mr. Bain's writing is crisp and detailed throughout. Castleton's visions are twisted and nightmarish and the author brings them to life with ease.
If you enjoyed the author's previous works, I
recommend
'Death Sight'
as a must read.