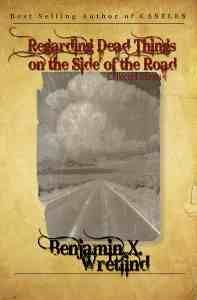 Title:
Regarding Dead Things on the Side of the Road: Collected Stories (Volume 1)
Author:
Benjamin X. Wretlind
(
Homepage
|
Facebook
|
Twitter
|Amazon:
US
/
UK
|
GoodReads
)
Format:
E-book/Paperback
Length:
230 pages
Price:
$3.95/$10.99

In this collection of fifteen short stories, Mr. Wretlind has compiled stories from several different genres and themes. It's a buffet of tales to ease all your dark and twisted cravings.
Stories in this collection:
The Ferryman
The Item
A Letter To Elise
Jessie
The Bridge
A Tooth For Miguel
Conner's Menagerie
Change
Destination
Terminal Conversations
The Wolf, The Caribou, And The Solitary Man - A Parable Of Nature
Regarding Dead Things On The Side Of The Road
Salem, Indiana
Harlan's Holes
Mighty Chief Chappose Picks Berries
This is a great collection that displays the natural ability of the author. While the stories maybe be a bit dark and not everyone's genre of choice, I loved every morsel of the prose.
My favorites of the bunch are:
Change: A man obsessed with collecting scissors, spirals into madness and believes scissors are a tool that aids change. When he passes his love for scissors to his son, he realizes that he still has a lot to learn about scissors and changes.
Jessie: Jessie's pa will not come inside, instead he lives outside in the old family van. Before her death, Jessie's mom left him a photograph; a clue that Jessie must figure out in time. A truly intense and haunting ghost tale.
The Item: On a road trip with his wife and kids, a husband is intrigued by the road signs advertising 'The Item'. Against his wife's wishes he visits the shack on the side of the road that houses the item. What he finds at that rest stop is something he never imagined.