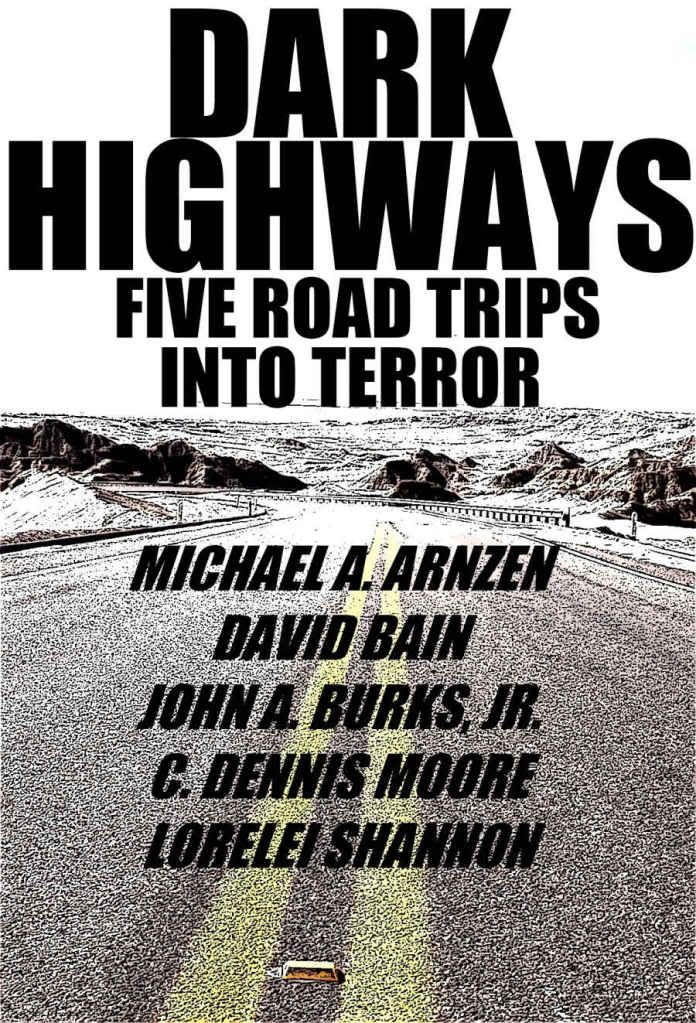 Title:
Dark Highways: Five Road Trips into Terror
Authors:
Michael A. Arnzen, David Bain, John A. Burks Jr., C. Dennis Moore, and Lorelie Shannon
Amazon:
US
/
UK
Format:
E-book|Paperback
Length:
74 pages
Price:
$2.99|$9.99
Rating:
* * * * *
Summary:
Sit back and hold on for your life as five authors take you on one twisted horrific road trip.
Overall Dark Highways is a great collection featuring some very talented authors. My favorites are
"Black Trailer"
,
"Companion"
, and
"Damned Potholes"
.
My review for each stories follows.
Damned Potholes
Author: Michael A. Arnzen
(Homepage|Facebook|Twitter|Amazon|GoodReads)
Rating:

* * * * *



Summary:
A trucker picks up a hitchhiker and finds out the truth about what goes bump on the road.

Arnzen takes the mundane,potholes, and turns it into an eerie experience that will have you second guessing yourself during your drive. Mind the potholes please!

Black '47
Author: Lorelei Shannon
(Homepage|Facebook|Amazon|GoodReads)
Rating:

* * * *



Summary:
A hearse haunted, by renowned serial killer Iram Wayne Hescoxis,owned by belly dancer Serpentina. She uses it as a sideshow to earn extra cash. Is it really haunted or just a myth.

First time reading Lorelei Shannon's work and I was really impressed with this short.From the beginning I thought I knew how it ended but boy did she throw me for a loop. Pleasantly surprised and will be sure to check out other works from her.

Black Trailer
Author: John A. Burks Jr.
(Homepage|Twitter|Amazon)
Rating:

* * * * *



Summary:
Trucker Joshua Younger is hauling a black trailer that leaves a trail of death behind him with each stop. Is Younger's cargo to blame or is something more sinister at play.

Like the previous story, this was my first time experiencing this author. It took a couple of pages for me to get used to his writing style. Once I warmed up to his style I was hooked and Black Trailer became my favorite story in the collection.

Companion
Author: David Bain
(Homepage|Facebook|Twitter|Amazon|GoodReads)
Rating:

* * * * *



Summary:
Teacher Edward Hardesty is a tortured soul.His companion and fellow teacher was charged with molesting a student. Now Hardesty has plans to off himself, but while on a stretch of road he meets a very bad man and a helpless boy that changes him.

David Bain, author of "Island Ghosts", and other great stories provides a dark and twisted tale that tugged at my emotions. While it is not heavily based on the supernatural it is still a great read and perfect fit for the collection.

5:53
Author: C. Dennis Moore
(Home|Twitter|Amazon|GoodReads)
Rating:

* * * *



Summary:
A quick outing for pizza leads Sean Leonard through twists, turns, and into the unknown.

Another first for me, 5:53 manages to combine Sci-Fi and supernatural elements in an intriguing read. To me it's like a darker version of the movie "Groundhog's Day", except instead of reliving the same day over again the character Leonard is stuck in a time loop. I could be off base but that's what I got of it.