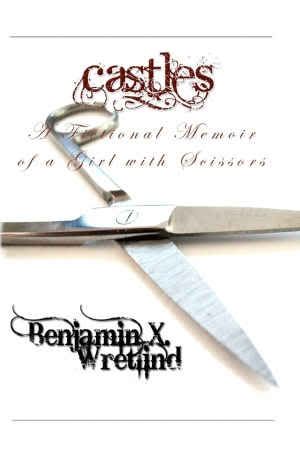 Castles: A Fictional Memoir of a Girl with Scissors by Benjamin X. Wretlind
Title:
Castles: A Fictional Memoir of a Girl with Scissors
Author:
Benjamin X. Wretlind
(
Homepage
|
Facebook
|
Twitter
|Amazon:
US
/
UK
|
GoodReads
)
Format:
E-book
Length:
190 pages
Price:
$2.99
Rating:
* * * * *
Summary:
What would you do to build your castle in the sky?

When Maggie was six, she hid from desert storms under the sink where the Comet and Windex were kept. Now twenty, she welcomes the storms. Maggie has been abused, torn apart by the sins of others and constantly feels as if she is living on the verge of some grand epiphany perhaps passed down through her Grandmother, perhaps given to her by God.

Then again, she may just be insane.

Maggie doesn't know if the four bodies she dismembered and placed inside a rusted Volkswagen Bus are the only bricks left to her castle in the sky, but she hopes you'll understand if they're not. Castles is Maggie's story, a literary horror novel about love and redemption, belief and revenge and what brings a person to madness.
I must admit I started reading
"Castles"
back in march and after a few chapters I put it aside. It wasn't because it was terrible but in the beginning it felt more like a fantasy novel(which I'm not a big fan of). After reading all of the great interviews and praise for the book I felt compelled to go back and read it.
Am I glad I gave it another chance? HELL YEAH!
"Castles"
is a slow burning fuse that builds throughout the beginning chapters preparing the reader for the explosions that are to come. You will not be prepared for the big bangs, trust me. Once it explodes all hell breaks loose and you just have to hang on for a horrific and brilliant ride filled with twists and turns.
It's disturbing but not like some of Edward Lee's works. There's rape but Wretlind doesn't go into hyper realistic detail like Lee.
"Castles"
isn't just a book it's an experience that can't be missed.
Before I go I'd just like to say this is one book I'd love to see as a movie.