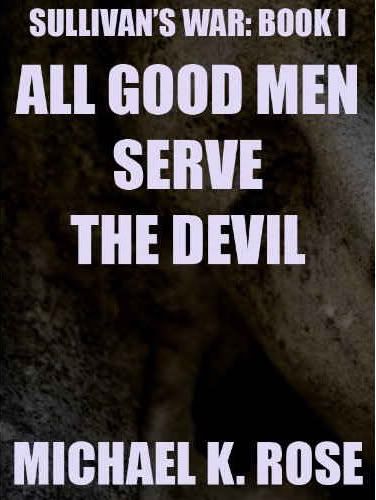 Title:
Sullivan's War: Book I - All Good Men Serve the Devil
Author:
Michael K. Rose
(
Homepage
|
Facebook
|
Twitter
|
Amazon:
US
/
UK
|
Barnes&Noble
|
GoodReads
)
Format:
E-book
Length:
33,000 words/132 pages
Price:
$2.99
Rating:
* * * * *
Summary:
Agent Frank Allen is assigned his toughest investigation yet, the murder of a powerful politician on Earth. Was it a political assassination or was it personal? To find out, he'll have to track down the killer, a man named Rick Sullivan. This cat-and-mouse thriller follows Allen and Sullivan across the known galaxy to planets where life is cheap and law and order is non-existent. And Allen finds that Sullivan and the answer he seeks is more complex than he imagined. Sullivan is not only fighting a war against the oppressive government of his home planet, he's fighting a war against injustice everywhere. But in his righteousness, is Rick Sullivan only serving the Devil? And does Frank Allen serve the very same master?
Book one of Sullivan's War starts out strong and never fizzles out as the story unfolds. At heart this is a political thriller murder mystery set in a futuristic world where living on other planets is not a mere dream but an actuality. The characters,technology and settings are well-developed and believable as Mr. Rose crafts each with a very skilful touch.