Terrors That Tingle: A Collection of Short Horror Tales
Author:
Wesley Thomas
Amazon
Facebook
Goodreads
website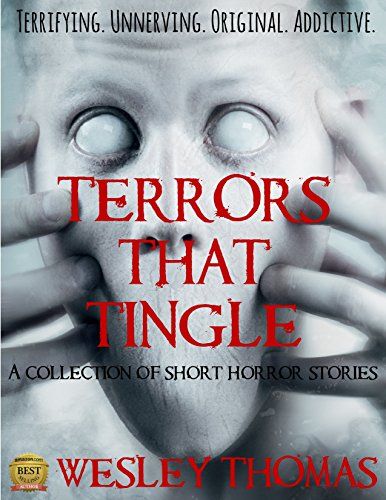 Want to experience terrors that make you tingle? From the British horror author that brought you the bestselling horror collection 'Nightmare Fuel' comes his latest collection of horrifying tales. From ominous messages, doll makers, transformational stairs, stage fright, crazy old ladies, malfunctioning elevators, and terrifying helicopter rides. This collection is a must-read for horror bookworms.
Terrors That Tingle
is the newest collection from author Wesley Thomas, containing fifteen well crafted shorts that will entertain and keep you up late at night. The author is steadily improving and honing his skills with each release. Mr. Thomas does not shy away from the scares in his works and this collection is no different, If you haven't read any of my previous collection reviews. I prefer to go over some of my favorite stories within and give my opinions on those.
The Message
is my absolute favorite of the collection. Lorraine, a novelist, crippled with social anxiety lives in a mansion away from the hustle and bustle of big city live. A typical day of work turns sinister for the novelist as she realizes the situation she is in. This is what I consider a great read. It is taught with suspense and keeps you guessing. But most of all I can relate to the story as I suffer from social anxiety. The only drawback with this story is that, I want more!
The Doll Maker.
Alfred is a strange traveling craftsman that crosses path with Zoe, a young teenage girl.Going to get this out first. Dolls are so freaking sinister! Even when I see a smiling loving looking doll, it gives me the creeps. So from the beginning, my creepy alarm is already beeping but nothing prepared me for what was to come. I don't want to say much more in fear of spoiling this story. Rest assured this is another story that is entices fear and dread.
Dementia
focuses on Darren who is awoken during the night by the howls of a elderly woman. The other neighbors deal with her nightly howls and outbursts but nothing helps Darren. Another night awakened by the crazy old woman, puts him into a rage and soon will lead into an encounter with crazy. If you have never been around someone with dementia, then this tale may seem like fantasy. Not all dementia sufferers are crazy, but this disease is brutal and can cause even the nicest person to be come scary and fear inducing. Again this is another story that I like because I can relate in a sense to the main character.
These titles are just a few of my favorites in the collection, but what is so great about collections of shorts is that while these titles I've discussed may not appeal to you; there are many more included that could be what you want. The pages are drenched in blood, dread, and fear. Read at your own risk! But trust me, you will want to read this collection. It's sure to scratch all your horror related itches. If any of this review piqued your interest, go and give
"Terrors That Tingle"
a read.