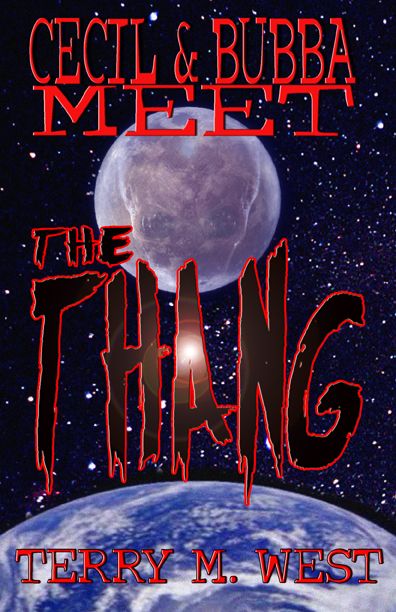 The South shall rise again! CECIL & BUBBA MEET THE THANG Coming March 21st!
Terry M. West's horror collection, WHAT PRICE GORY?, was published by Pleasant Storm Entertainment, Inc. on December 13
th
of last year. The collection quickly became the most popular and critically successful project that West has ever created. But one story in particular stood out to horror fans and reviewers. CECIL & BUBBA MEET A SUCCUBUS introduced Cecil McGee and Turner "Bubba" Teague. These two Texan slackers were cursed for accidently running over and killing the pit bull of Rosalita, a cranky old gypsy.
"You will be plagued by the strange and evil until the end of your days," she swore to them. And soon the boys found themselves in a huge paranormal mess involving a ghost hunter from the East and a ravenous succubus that lingered in a house reputed to be the most haunted in Texas. The story became a favorite among many, and the perfect combination between comedy and horror struck a favorable chord with readers.
Part of the charm was the absolutely dead-on characterization that West's fiction is quickly becoming famous for. Cecil is a small but wiry man. He is naturally distrustful, vengeful, greedy and easily agitated. But beneath it all, he has a heart of gold (which he would quickly pawn if it weren't pumping his blood). Bubba is a gentle giant; a large man who loves his mama and is a firm believer in the supernatural. Bubba will believe "any flyer you put on his windshield", as Cecil would say. Bubba comes from a family of "Jesus freaks and drama queens" and he is superstitious and spooks easily.
Cecil and Bubba both are thirty year-old layabouts who have dead-end jobs. Bubba is a bouncer at a strip club and Cecil works at the bottom of the totem pole at his daddy's garage. Walk into any honky-tonk in the Dallas/Fort Worth area, and you could easily meet these two characters.
CECIL & BUBBA MEET THE THANG is a full length sequel to CECIL & BUBBA MEET A SUCCUBUS. The new novella takes place the very next day after the events of the first story (making it Halloween night) and this time the not so dynamic duo find themselves tying up with the Thang, which turns out to be an alien that has been buried in a small Texas town for over one hundred years. The creature has been awoken by the energy of the curse, and it is anxious to devour our world. The only form of defense we have are our two redneck underachievers who are only now starting to understand the curse that they carry and the ramifications that it will have. And while the horror/comedy tale definitely has thick Southern flavorings, West promises it is not a parody and that the humor doesn't belittle his characters or people from the South.
"I'm a Texan." West explained, proudly. "I was born in a small town called Lake Worth and I spent the first twenty-five years of my life in the lone star state. I am ferociously proud of my heritage. Cecil & Bubba are characters I have been playing around with for years. They are comprised of many people I knew in my youth."
West also lamented the lack of strong and positive Southern role models in horror fiction when he was a child: "Growing up, it was very rare that I read a horror story where a good old boy with a drawl turned out to be the hero. Usually when I would run across a Southern character I could identify with, that character was a victim or a villain or played strictly for comedy relief. Cecil & Bubba are different. Yes, the things they say are often hysterical, but they aren't helpless bumpkins. They are characters who, flawed as they may be on occasion, care about each other and what is right. And when they decide to put the boots to something, they don't hold back. It usually concludes with something blowing up. Real good."
CECIL & BUBBA MEET THE THANG will be available on Amazon on March 21, 2014. A Kindle version will be offered with a trade paperback in the works shortly thereafter.
Depending on the response to their newest adventure, future Cecil & Bubba tales are a definite possibility. "If people want them, they'll return," West promised. "I don't know how frequently they will appear, as I don't want the boys to wear out their welcome. But I have plenty of adventures to cook up for them."
If you can't wait to get your hands on this one, WHAT PRICE GORY? is currently available on Amazon and features the CECIL & BUBBA MEET A SUCCUBUS tale as well as a special preview of CECIL & BUBBA MEET THE THANG which presents the first 3000 words of the novella.
Pertinent websites: