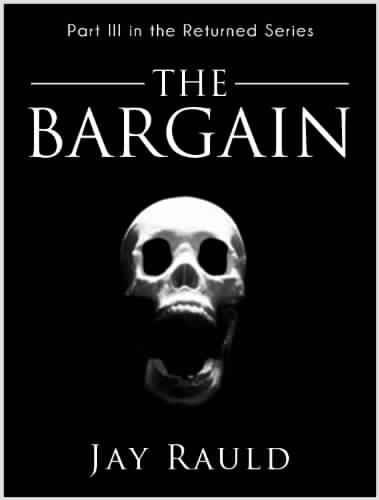 Title
: The Bargain(Returned)
Author
:
Jay
Rauld
Published By
:
Razorline
Press
Amazon:
US
/
UK
)|
Goodreads
|
Smashwords
Format
: E-book
Length
: 22 pages
Price
: $0.99
The second of "The Returned", a series from author Jay

Rauld

,

"The Bargain" places the readers in an alternate world where brothers Joey and Kenton struggle to survive as Kenton leads a group of people through the unknown landscapes. With leadership comes life and death decisions, some which Kenton refuse to make.
The alternate world or dimension the author has created in this series of stories is strange,enticing, and frightening. The bond between the brothers and the choices they make are powerful and real. Out of the three stories, I'd say that this one is my favorite.
Give it a read along with the other two titles in series;
"The Closet"
and
"The Revelation"